In July, we wrote about new data that shows that ransomware attacks on K-12 schools are projected to increase by 86% in 2021.
It's not just K-12 schools. Colleges and universities are targets, too. In 2021 alone, there have been at least 19 colleges infected, according to research.
That number has expanded by one—Howard University in Washington D.C., was targeted by a ransomware attack and classes had to be canceled.
In July, according to Check Point, there was a 29% increase in attacks against educational organizations as compared to the first half of 2021. In July, there was an average of 1,739 attacks per organization per week. Compared to other sectors, attacks on education is growing rapidly: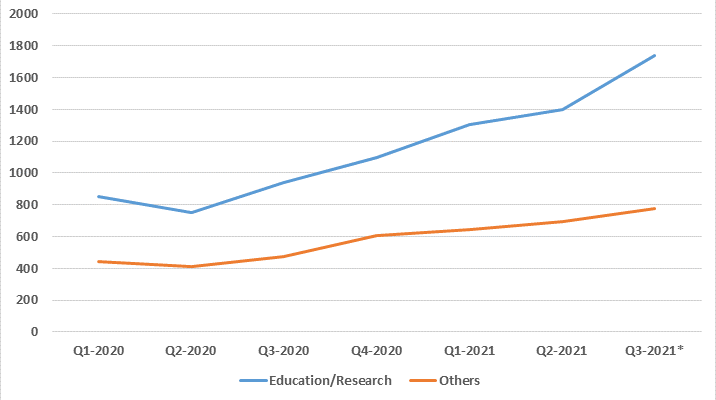 In the U.S., that number has increased by 15% in July, according to Check Point.
The beginning of the school year tends to be when attacks hit the most. Your back-to-school shopping list needs to include phishing and ransomware protection.
The Avanan platform currently protects faculty, student, and alumni populations at some of the largest university systems as well as local school districts.
Students are a highly vulnerable population for hackers. Avanan helps to protect both them and the institution from the costly ramifications of a breach.
Faculty have enough work with classes and research. Passive, pre-inbox protection from Avanan means they don't even see phishing emails. At the same time, they can easily report attacks that get through to IT, who can use the Search & Destroy post-delivery forensic tool to pull all malicious files from the entire collaboration environment in a few clicks.
Reputation is the basis of trust in the educational system. Avanan helps to prevent data leakage, account takeover, and compromises that extend across file-sharing, email, and collaboration with a one-click installation that is easy on staff and budget. This ensures your organization remains FERPA compliant.
Many schools and universities have separate tenants: one for faculty, and another for staff. The Avanan dashboard unifies reporting, remediation, and policy enforcement in a single pane of glass. Security Operations and IT teams can manage and secure all environments with one threat interface.
Don't let ransomware cancel classes or expose valuable data. Secure your educational institution today with Avanan.