DLP serves as a crucial tool for preventing and controlling the sharing of sensitive information with external parties.
However, despite the fact that certain emails should never be shared over the public internet, email remains the preferred and simplest method of communication for employees.
In order to facilitate secure and confidential email communication with partners and customers, organizations rely on Secure Messaging. This allows external parties to access sensitive emails through a secure and verified portal while giving the sending organization complete control over the availability of the message to the external party.
Over the years, Avanan has successfully integrated with Microsoft's Email Encryption (secure messaging), providing customers with the ability to customize an Avanan DLP policy that activates Microsoft Encryption for their emails.
If customers opt not to utilize Microsoft Email Encryption for any number of reasons, now they can still securely transmit their sensitive external communications by leveraging Avanan's exclusive SmartVault solution.
We store secure emails by SmartVault only in the services associated with the data residency region of your tenant. Email and its attachments are stored encrypted by SSE-S3.
Instead of time-consuming installation processes, difficult policy management and a convoluted recipient experience, we've created a simple solution that pairs with our best-in-class email security.
For the recipient, the process is seamless. The recipient requests access and receives a one-time passcode to the mailbox. From there, they can use the passcode to open a portal to view the email.
Plus, it's seamlessly integrated with our DLP. Messages will be encrypted if they contain information covered under DLP categories.
Customers also have the flexibility to personalize SmartVault according to their specific security and branding requirements. They can adjust settings like the duration of the message link availability, the sender address, the subject, and more.
To ensure the encryption of confidential emails using SmartVault, simply establish an inline DLP policy and, within the DLP workflow, choose one of the SmartVault workflows.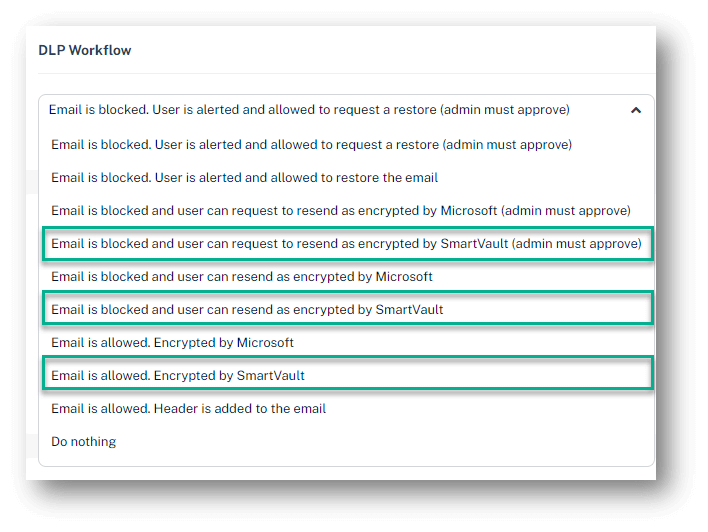 To customize the SmartVault parameters, go to Configuration > Security Engines and click Configure next to Avanan SmartVault