Organizations know that today's email threats mandate layered security and require the deployment of another email security solution on top of Microsoft's, whether it is EOP or Defender.
For efficacy, this is great. The second layer is there to catch what the first one misses. Beyond that, the second layer learns from the original misses, strengthening as it goes along.
This generates better results and better security. But in order to understand which layer did what, IT admins essentially have to bounce back and forth between multiple dashboards. In the second layer, you can't see what the first layer did and vice versa. You're living in two screens, two dashboards, and two environments. That's on top of all the other screens and dashboards admins need to monitor. That's not a tenable solution.
For email, at least, a solution exists.
We provide admins with the visibility they need to understand the classification and enforcement taken by Microsoft and Avanan--all in the Avanan portal. Here's what it looks like: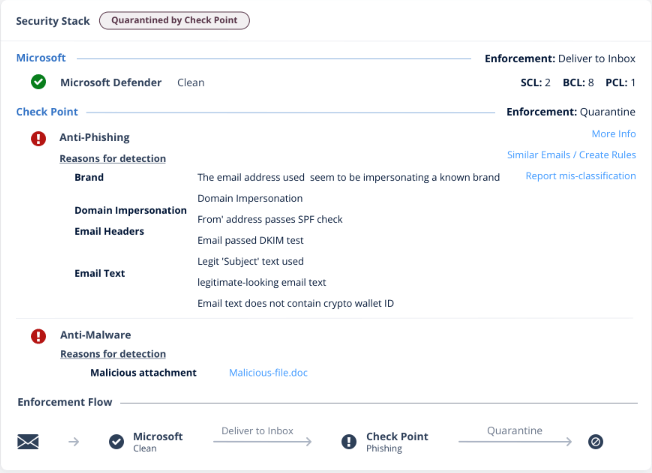 Here's what you'll see:
The Microsoft classification of every email, along with the different scores (SCL, BCL and PCL) it gave the email and in case a threat was detected, Microsoft's reasons for this classification
What Microsoft Defender would have done with the email, even if Avanan decided to override this decision
The main dashboard provides an overview of how Avanan classified emails Microsoft decided to let through to the end users
Mail Explorer allows filtering emails by Avanan and Microsoft's enforcement decisions
This feature significantly enhances our ability to make managing the email threat easier and simpler.